Interactive Database Query
This website presents aggregated resistance data. Data are updated on a yearly basis. The most important trends are published regularly in the BAG-Bulletin, trends or changes of the epidemiological situation will also be published and commented under Publications.
Definitions of selection criteria
Microorganisms and tested antibiotics or antibiotic groups
Microorganism
Possible selections of antibiotics

Staphylococcus aureus




Staphylococcus aureus

, methicillin susceptible


Staphylococcus aureus

, methicillin resistant


Staphylococcus

, coagulase-negative, not saprophyticus


Staphylococcus saprophyticus




Staphylococcus aureus

, vancomycin intermediate


Staphylococcus aureus

, vancomycin resistant
Penicillin
Oxacillin
Aminoglycosides
Trimethoprim-sulfamethoxazole
Tetracycline
Clindamycin
Macrolides
Vancomycin
Teicoplanin
Fluoroquinolones, newer
Tigecycline
Fluoroquinolones, older
Rifampicin
Fucidic acid
Mupirocin
Linezolid
Quinupristin-Dalfopristin

Enterococcus

 species (not identified to species level)


Enterococcus faecalis




Enterococcus faecium

Penicillin
Aminopenicillins
Gentamicin HLAR
Streptomycin HLAR
Tetracycline
Vancomycin
Fluoroquinolones, older
Fluoroquinolones, newer
Quinupristin-Dalfopristin
Linezolid
Fosfomycin
Tigecycline

Streptococcus pneumoniae




Streptococcus pneumoniae

, penicillin susceptible


Streptococcus pneumoniae

, penicillin nonsusceptible
Penicillin
Aminopenicillins
Ceftriaxone
Trimethoprim-sulfamethoxazole
Tetracycline
Clindamycin
Macrolides
Fluoroquinolones, newer
Tigecycline
Ketolide

Haemophilis influenzae

Aminopenicillins
Amoxicillin/clavulanic acid
Cephalosporins. 2nd generation
Cephalosporins, 3rd generation
Trimethoprim-sulfamethoxazole
Azithromycin
Clarithromycin
Fluoroquinolones, newer

Neisseria meningitidis

Penicillin
Cephalosporins. 2nd generation
Cephalosporins, 3rd generation
Rifampicin
Fluoroquinolones, older

Neisseria gonorrhoeae

Penicillin
Ceftriaxon
Tetracyclin
Fluoroquinolones, older

Citrobacter koseri




Citrobacter

 non koseri


Enterobacter

 spp.


Escherichia coli




Klebsiella pneumoniae




Klebsiella oxytoca




Morganella morganii




Proteus mirabilis




Proteus

 non mirabilis


Serratia

 spp.
Aminopenicillins
Amoxicillin-clavulanic acid
Piperacillin-tazobactam
Cephalosporins, 1st generation
Cephalosporins. 2nd generation
Cephalosporins, 3rd generation
Cefepime
Aztreonam
ESBL
Carbapenems
Aminoglycosides
Trimethoprim-sulfamethoxazole
Fluoroquinolones, older
Nitrofurantoine
Fosfomycin
Tigecycline

Campylobacter

 spp.
Erythromycin
Fluoroquinolones, older
Macrolides

Salmonella

 spp


Shigella

 spp
Aminopenicillins
Trimethoprim-sulfamethoxazole
Fluoroquinolones, older


ESBL

Pseudomonas aeruginosa

Pieracillin-tazobactam
Ceftazidime
Cefepime
Carbapenems
Aminoglycosides
Ciprofloxacin


ESBL

Acinetobacter 

spp.
Piperacillin-tazobactam
Cephalosporins, 3rd generation
Cefepime
Carbapenems
Fluoroquinolones, older
Aminoglycosides
Trimethoprim-sulfamethoxazole


ESBL

Stenotrophomonas maltophilia

Ticarcillin-clavulanic acid
Trimethoprim-sulfamethoxazole
Levofloxacin
Minocyclin
ESBL
Close
Antibiotic groups and antibiotics
Antibiotic group
Antibiotic
Penicillin, Penicillinase-sensitive
Penicillin
Aminopenicillin
Ampicillin
Amoxicillin
b-Lactam-/b-Lactamase-Inhibitor
Amoxicillin-clavulanic acid
Ticarcillin-clavulanic acid
Piperacillin-tazobactam
Cephalosporin, 1st generation
Cefapirin
Cefadroxil
Cefalothin
Cefadrine
Cefazolin
Cephalosporin, 2nd generation
Cefonicid
Cefprozil
Cefuroxime axetil (oral)
Cefuroxime sodium (parenteral)
Loracarbef
Cefamandole
Cephalosporin, 3rd generation
Ceftazidime
Cefdinir
Cefixime
Cefpodoxime
Ceftriaxone
Cefoperazone
Ceftibuten
Cefotaxime
Ceftizoxime
Cephalosporin, 4th generation
Cefepime
Carbapenem
Imipenem
Meropenem
Aminoglycoside
Amikacin
Gentamicin
Gentamicin, HLAR
Kanamycin
Kanamycin, HLAR
Neomycin
Netilmicin
Streptomycin
Streptomycin, HLAR
Tobramycin
Glycopeptide
Teicoplanin
Vancomycin
Macrolide
Azithromycin
Clarithromycin
Dirithromycin
Erythromycin
Josamycin
Roxithromycin
Fluoroquinolone, older
Cinoxacin
Ciprofloxacin
Enoxacin
Fleroxacin
Nalidixic Acid
Norfloxacin
Ofloxacin
Fluoroquinolone, newer
Gatifloxacin
Grepafloxacin
Lomefloxacin
Levofloxacin
Moxifloxacin
Sparfloxacin
Folate pathway inhibitor
Trimethoprim-sulfamethoxazole
Tetracyclin
Doxycycline
Minocycline
Tetracycline
Tigecycline
Lincosamide
Clindamycin
Nitrofurans
Nitrofurantoin
Rifamycins
Rifampicin
Close
| | |
| --- | --- |
| Age group | Age |
| < 15 | less than 15 years old |
| >=15 | 15 years or older |
Close
| | |
| --- | --- |
| Inpatients | Samples from patients hospitalized in acute care hospitals |
| Outpatients | Samples from patients treated by general or specialized practitioners, in outpatient departments of clinics or in long term facilities |
Close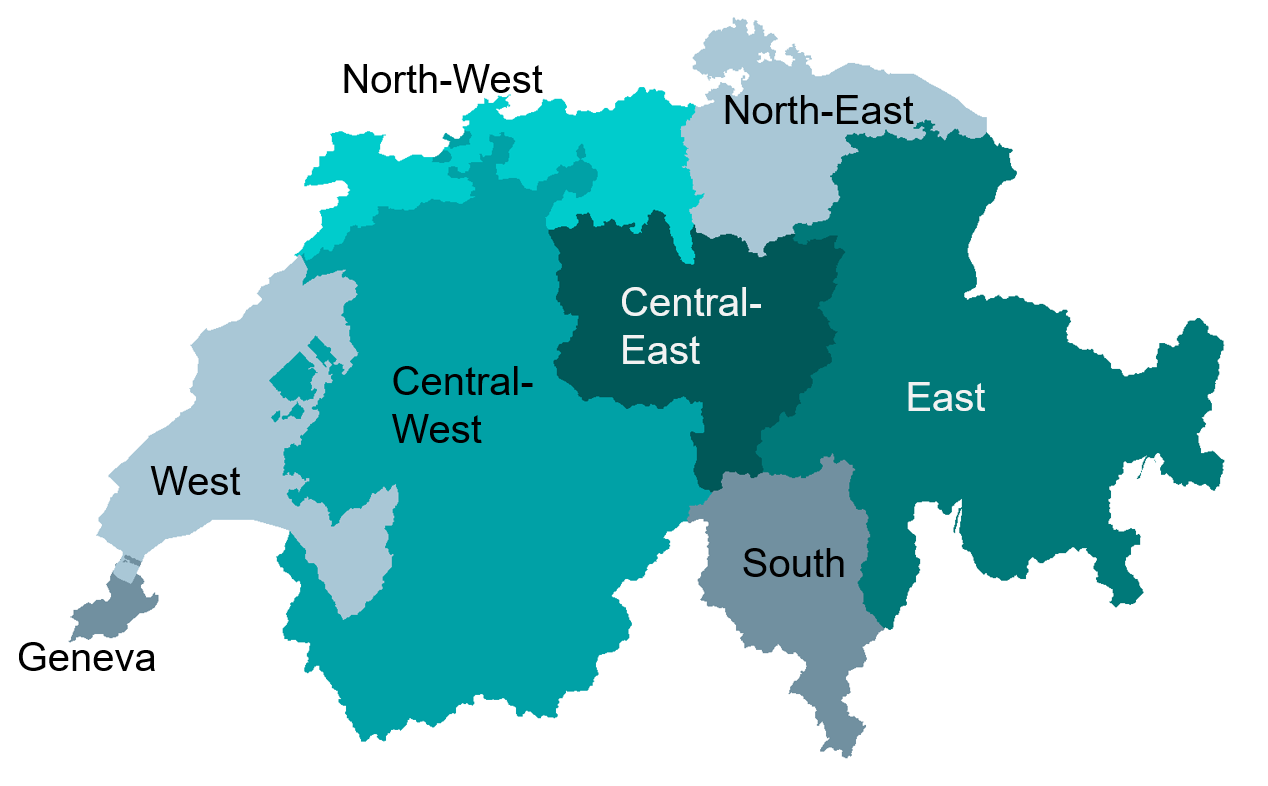 Region
Canton
Number of inhabitants
Switzerland Central-East
Luzern
394'604
Nidwalden
42'080
Obwalden
36'834
Schwyz
152'759
Uri
36'008
Zug
120'089
Total
782'374
Switzerland Central-West
Bern
1'009'418
Freiburg
303'377
Solothurn
263'719
Wallis
331'763
Total
1'908'277
Switzerland East
Appenzell   Ausserrhoden
54'064
Appenzell Innerrhoden
15'854
Glarus
39'794
Graubünden
195'886
Sankt Gallen
495'824
Total
801'422
Switzerland Genève area
Genf
477'385
Total
477'385
Switzerland Nord-East
Schaffhausen
79'417
Thurgau
263'733
Zürich
1'446'354
Total
1'789'504
Switzerland North-West
Aargau
645'277
Basel Land
281'301
Basel Stadt
190'580
Jura
72'410
Total
1'189'568
Switzerland South
Tessin
350'363
Total
350'363
Switzerland West
Neuenburg
177'327
Waadt
761'446
Total
938'773
Swiss federal statistical office, 2015
Close
Anatomic localization of samples
For a few microorganisms analysis is possible depending on the anatomic localization of the samples:
Microorganism
Anatomic localization
Escherichia coli
all
Urogenital
Not-Urogenial
Close
Results: % of tested isolates, n is number of tested isolates.
De-duplication: Identical microorganisms with identical resistance profile within same patient within 365 days are de-duplicated.
Definition of susceptibility, intermediate resistance and resistance: Based on interpretative breakpoints defined by CLSI or EUCAST. In 2011 and 2012 the methods used may differ between the individual laboratories.
Exception: Interpretative breakpoints for ceftriaxone are defined for cerebrospinal fluid.
Definition Enterococcus species: Enterococcus species without identification to species level. Enterococci with vancomycin resistance are always identified to species levels and are therefore not represented in this group.
Antibiotic groups are set intermediate resp resistant, if at least one out of the tested antibiotics is intermediate resp. resistant.
Definition aminopenicillin: Amoxicillin, ampicillin
Definition cephalosporin, 1st generation: Cefapirin, cefadroxil, cefalothin, cefradine, cefazolin
Definition cephalosporin, 2nd generation: Cefonicid, cefprozil, cefuroxime axetil (oral), cefuroxime sodium (parenteral), loracarbef, cefamandole
Definition cephalosporin, 3rd generation: Ceftazidime, cefdinir, cefixime, cefpodoxime, ceftriaxone, cefoperazone, ceftibuten, cefotaxime, ceftizoxime
ESBL (Expanded beta-lactamasis activity): Susceptible means ESBL-activity no; resistant means ESBL-activity yes. Intermediate not existing. Interpretation ESBL-activity yes: Resistant for all penicillins, cephalosporins and aztreonam.
Definition carbapenem: Imipenem, meropenem
Definition aminoglycoside: Amikacin, gentamicin, kanamycin, neomycin, netilmicin, streptomycin, tobramycin.
HLAR: High level aminoglycoside resistance
Definition macrolide: Azithromycin, clarithromycin, dirithromycin, erythromycin, josamycin, roxithromycin.
Definition fluoroquinolones, older: Cinoxacin, ciprofloxacin, enoxacin, fleroxacin, nalidixic acid, norfloxacin, ofloxacin.
Fluoroquinolone, older: Indicated only for antimicrobial prophylaxis after exposition.
Definition fluoroquinolone, newer: Gatifloxacin, grepafloxacin, levofloxacin, lemofloxacin, moxifloxacin, sparfloxacin.
Nitrofurantoin: Only for urinary tract infections.
Mupirocin: Only for topical use.
Close